4K UHD 55"Education Interactive Flat Panel Display
Item No: RM5502K
Call For Price(01896006975)
Your Caring Mate for Enhanced Interactive Learning
RM5502K is designed to tap into the dynamic possibilities of the classroom and help teachers build a healthy and engaging learning environment. Not only does RM5502K come with Eye-Care solution, but it is also installed with proficient cloud whiteboard for enhanced class participation and foster collaboration with students beyond locations and platforms. RM5502K is your ultimate interactive display to achieve a touch-enhanced, and connect entire class for a smooth and fun learning experience.
VISA | MasterCard | AMEX ক্রেডিট কার্ড ব্যবহারকারীরা এখন ০% ইন্টারেস্টে ৩/৬ মাসের কিস্তিতে কিনতে পারবেন। কেনার সময় Debit/Credit Card নির্বাচন করে স্ক্রিনে দেয়া নির্দেশনা অনুসরণ করুন।
Advance payment of ৳500 is needed for orders from outside Dhaka via bKash. Please call 01896005975 for payment and confirmation.
Description
SPECIFICATION
Description
Annotate and Collaborate Everywhere with the Cloud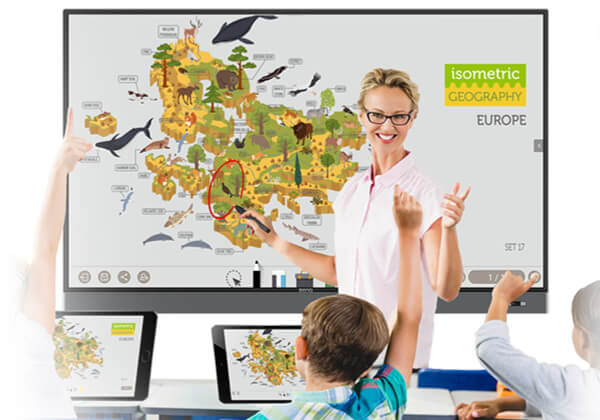 With cloud features, EZWrite 5 streamlines classroom discussions by making it smoother than ever for teachers and students to share ideas, notes, and opinions as if they are annotating on the same whiteboard regardless of where they are. Furthermore, with AMS service teachers will be able to access teaching materials stored in cloud storage and start the class directly with BenQ's IFP.
Smooth Real-Time Collaboration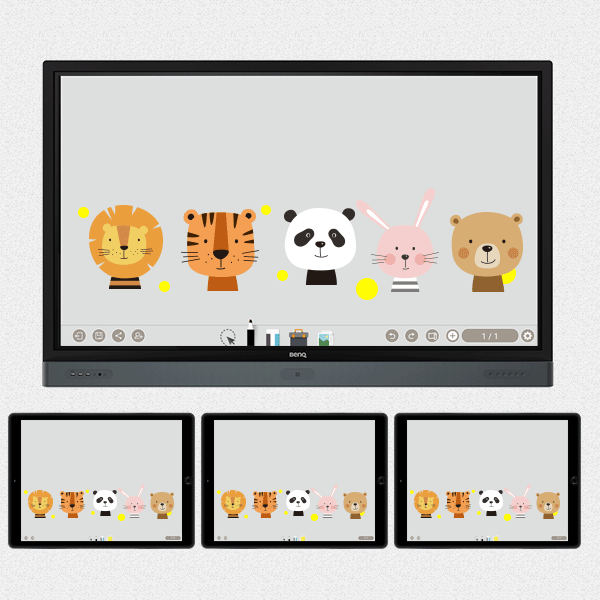 Cloud Whiteboard and Sticky Notes for Classrooms
Packed with teacher- and student-friendly features, BenQ's EZWrite 5 is the leading annotation solution for interactive and collaborative classroom scenarios. Teachers and students can enjoy enhanced interactivity by using EZWrite Cloud Whiteboard to collect, categorize, edit, and share notes between the IFP and mobile devices.
Instant Access to the Cloud
EZWrite 5 allows teachers to directly download and upload files to cloud services, such as Google Drive and Dropbox. Exclusive to EZWrite 5, this convenient cloud access makes it easy for teachers to modify their materials and bring them everywhere.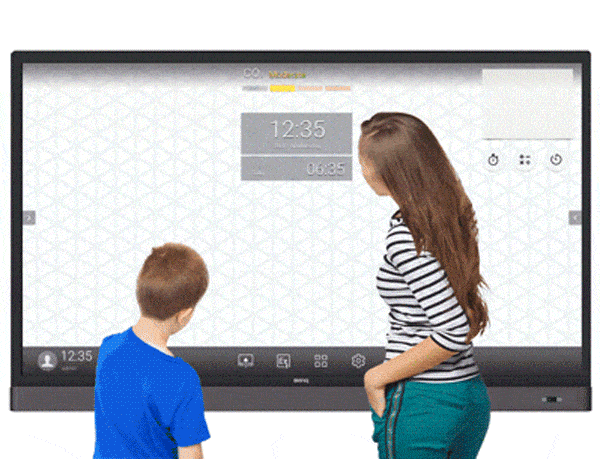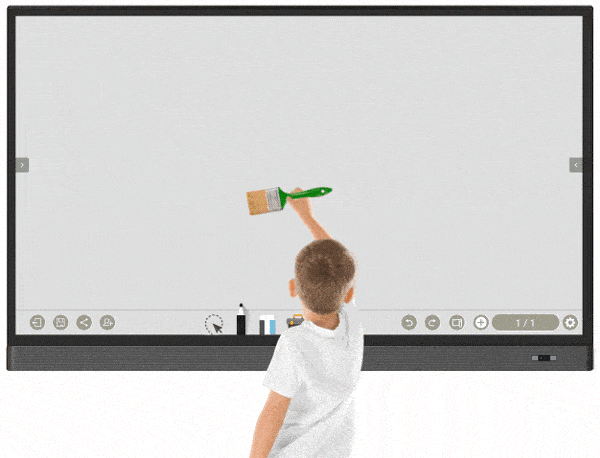 Brush Mode for Creative Education
EZWrite 5 is ideal for creative, inspired creation in art classes. Users are guaranteed to enjoy an effortless experience that feels like writing and drawing with actual pens and brushes.
| | |
| --- | --- |
| Model | RM5502K |
| Product Segment | Education IFP |
| Sub-Segment | Mainstream |
| Screen Size | 55" |
| Pixel DefectBright Dot/Dark Dot/Total Dot(Refer Panel IIS for details) | 1/8/10 |
| Light Source | Direct LED |
| TV/PID Panel | TV |
| Panel Type | VA |
| Display Orientation | Landscape |
| Usage (hrs/days) | 18 hrs / 7 days |
| Active Area (mm) | 1209.6 (H) x 680.4 (V) |
| Resolution (pixel) | UHD 3840 x 2160, Touch |
| Aspect Ratio | 16:9 |
| Brightness (typical) (nits; cd/m2) | 350 |
| Contrast Ratio (typical) | 5000: 1 |
| Dynamic Contrast Ratio | 30,000:1 |
| Response Time (ms) | 8.5 |
| Pixel Pitch(mm) | 0.11 (H) x 0.32 (V) |
| Frame Rate | 60Hz |
| Viewing Angle | 178 degree (H) / 178 degree (V) |
| Light Life (typical) (hrs) | 30,000 |
| Panel Surface | AG, Haze 2% |
| Color Gamut (x% NTSC) | 68% |
| Panel Bit (8 or 10) | 10 bit |
| SOC | Dual core A73+Dual core A53/ 1.5GHz (HV811) |
| GPU | Mali-G51MP4 |
| Scaler IC | No |
| System Memory | 4GB |
| Storage | 32GB |
| OS | Android 8.0 |
| Voltage | 100V~240V, 50-60Hz |
| Maximum (Watt) | 220W |
| Typical (Watt) | 154W |
| Standby (Watt) | <0.5W |
| Wake Up | VGA/HDMI/LAN |
| Technology | IR |
| Resolution (points area function) | 32767 x 32767 |
| Capacity | 20 points |
| Touch Response Time (Continuous/First) | <15ms / 8ms |
| Accuracy | ±1.0mm |
| Touch Output | x2 (USB type B) |
| OS Supported | Win 7, Win 8, Win 10 / Mac OS X10.12 /Chrome OS 58 / Ubuntu 16.04 / Fedora 28 / |
| OS for Touch Driver Free | Win 7, Win 8, Win 10 / Mac OS X10.12 /Chrome OS 58 / Ubuntu 16.04 / Fedora 28 / |
| Touch Pen Requirement | single-touch ≥Φ3mm and multi-touch ≥Φ6mm |
| Tempered Glass (Thickness, Mohs scale) | 3mm, 7H |
| Anti Bacteria Coating | No |
| AG | AG75 |
| Operation Temp (°C) | 0°C ~ 40°C |
| Storage Temp (°C) | -20°C ~ 60°C |
| Storage Humidity | 10% ~ 90% RH Non-Condensing |
| Operating Humidity | 10% ~ 90% RH Non-Condensing |
| Internal Speaker | 16Wx2 |
| VGA Input/Output | x1 / No |
| DVI Input/Output | No / No |
| HDMI Input/Output | x3 (2.0) / x1 (2.0) |
| Composite video In/Out | No / No |
| Component In/Out (YPbPr) | No / No |
| S-Video In/Out | No / No |
| Display Port Input/Output | No / No |
| Audio Input/Output (L/R, RCA) | No / No |
| PC Audio Input (3.5mm) | x1 |
| External Speaker Out (L/R) | No |
| COAXIAL Output | No |
| Microphone | No |
| Line in/out (3.5mm) | x1 / x1 |
| RJ45 Port | x1 |
| SPDIF Input/Output | No / x1 |
| USB (Type A) | x5 (2.0 x 2; 3.0 x 3) |
| USB (Type B) | x2 |
| USB (Type C) | No |
| RS232 Input/Output | x1 / No |
| IR Loop Through | No |
| OPS slot | x1 |
| Micro SD Card | No |
| Power (AC) Input/Output/Switch | x1 / No / x1 |
| NFC Reader/Writer | No |
| Camera | No |
| Weight (without packing / with packing) (kg) | 29.3 / 37.1 |
| Dimension (WxHxD) )(mm) | 1268.1 x 814.5 x 115.6 |
| Housing Material | Metal |
| Housing Color | Black (no logo) |
| Bezel Width (T/B/L/R) (mm) | 17.8 / 87.7 / 17.8 / 17.8 |
| Wall Mounting (VESA) (mm)(Screw type /Max. length) | 400 x 200 (4 holes); 4 – M8 x 25L |
| VESA Hole (for Media Player) | No |
| Pen Tray | x1 |
| Handle | x2 |
| OSD / Quick Start Guide / User's Manual | EN/EF/GM/DT/PL/RS/CZ/DN/SW/IT/RM/FN/NG/GK/HG/SP/EP/TC/CN/AB/JP/TH/PS/VT/KR/TR (26L) |
| OSD Tree | BenQ customerized |
| Remote Controller | x1 |
| Carton | BenQ printing |
| PWR Cord (by region) | By Region (EU, UK, US, AU, TW, JP, IN, KSA) |
| VGA / HDMI / DVI / DP / USB(for touch) Cable | x1(5m) / x1(1.5m) / No / No / x1(3m) |
| RS232 Cable | No |
| Quick Start Guide in box | x1 |
| User's Manual (electronic file) | x1 |
| Stand (Easy-to-go mount) | No |
| Adaptor | No |
| Warranty card (by region) | x1 (CN SKU) |
| Stylus | x2 |
| Wall Mount (with shipment) | x1 |
| Image Setting | Yes |
| Source / Volume Control | Yes |
| VGA Daisy Chain | No |
| DVI Daisy Chain | No |
| DP Daisy Chain | No |
| RS232 Control Daisy Chain | No |
| OSD Rotation (clockwise) | No |
| ID Setting | No |
| Sharpness Enhancement | No |
| Proof of Image Retention | Yes |
| Picture in Picture (PIP) | No |
| Picture by Picture (PBP) | No |
| DVI-HDCP | No |
| HDMI-HDCP | Yes (2.0) |
| DP-HDCP | No |
| HDMI-MHL | No |
| 10 Bit Color Processing | Yes |
| Video Wall OSD Setting | No |
| Ambient Light Sensor | Yes |
| Total turn-on time | Yes |
| Internal Temperature Sensor | Yes |
| CEC Control | Yes |
| RTC Function | Yes |
| FW Update | Yes (USB, OTA) |
| Freeze/ Blank | Yes |
| Front I/O | No |
| Flicker Free | Yes |
| Low Blue Light | Yes |
| Device Management Solution (DMS) | Yes |
| Floating tool | Yes |
| WPS (office viewer APP) | Yes |
| X-Sign | No |
| Color Calibration SW | No |
| Annotation APP | EZWrite 5 |
| InstaShare | Yes (BenQ Suggest) |
| Account Management System (AMS) | Yes |
| X-Sign Broadcast | Yes |
| Warranty | 3 Years |