BenQ 43" Robust and Sleek Smart Signage | ST4301K
Item No: ST4301K ৳ 64,000.00
ST4301K is the ideal digital display solution for small businesses and corporations. It brings together a wide variety of features that further elevate the attractiveness of retail and corporate environments. The stunning 4K resolution helps to enhance customer engagement, while the iron frame that covers all sides of the signage provides a robust and sleek design that blends well into modern retail and corporate spaces. Additionally, the powerful X-Sign software facilitates effortless content creation and management, and MDA application guarantees hassle-free display control. The wide range of sizes and sleek design ensure that businesses and corporations can enjoy a consistent look that helps them establish strong brand or corporate images. Combining all the aforementioned features and benefits, ST4301K series is an all-in-one solution for modern businesses and corporations.
VISA | MasterCard | AMEX ক্রেডিট কার্ড ব্যবহারকারীরা এখন ০% ইন্টারেস্টে ৩/৬ মাসের কিস্তিতে কিনতে পারবেন। কেনার সময় Debit/Credit Card নির্বাচন করে স্ক্রিনে দেয়া নির্দেশনা অনুসরণ করুন।
Advance payment of ৳500 is needed for orders from outside Dhaka via bKash. Please call 01896005975 for payment and confirmation.
Description
SPECIFICATION
Description
                        All-in-One, Clutter Free Solution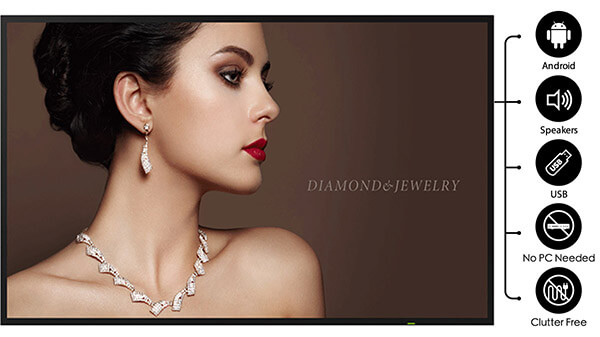 Android Built-In
Built-in Android means that the BenQ ST4301K is ready to work as soon as operators plug it in. There's no need to hook it up to a PC or other device to serve content, and embedded speakers provide for the ST4301K's audio needs. With no cables to hide, the all-in-one ST4301K fits neatly on shelves and reduces clutter.
USB Plug & Play
The ST4301K 's plug-and-play simplicity enables you to access and play multimedia files directly from a USB flash drive. Requiring no PC connection or complicated cable setup, the ST4301K ensures a holistic shopping experience with the most hassle-free installation.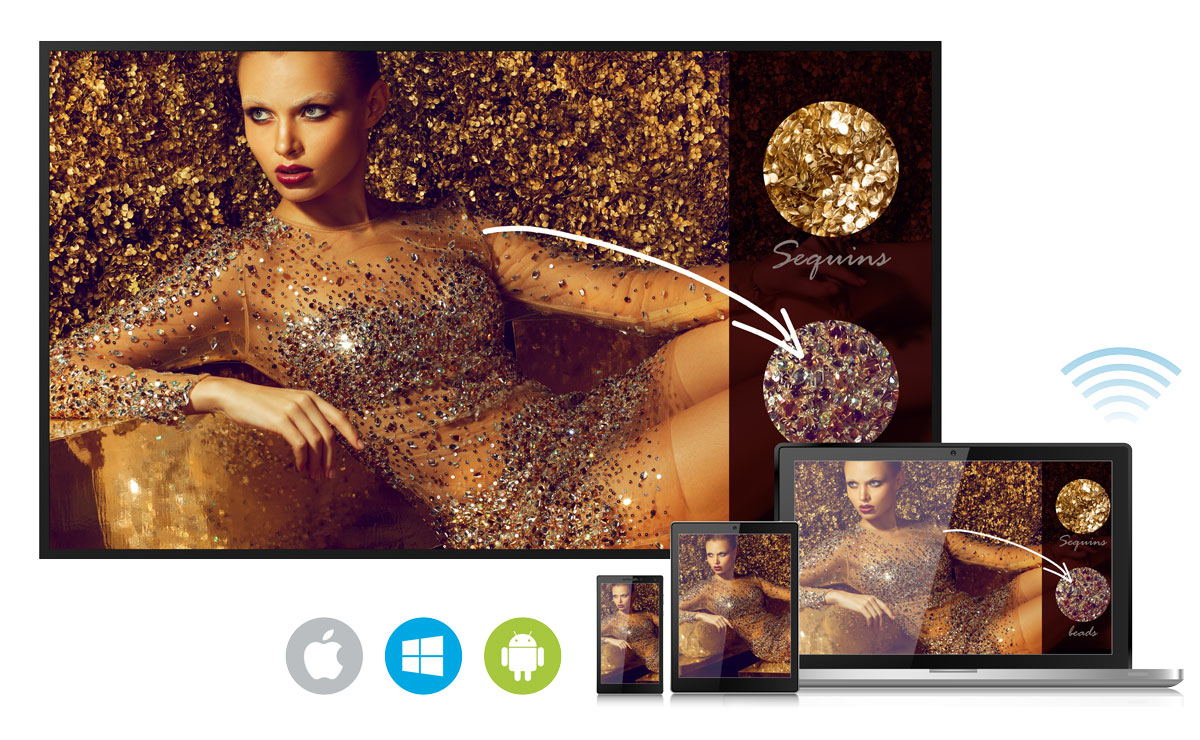 Wireless Solution for Seamless Collaboration
InstaShare is the software designed for seamless wireless presentation and collaboration during lectures. It allows the smooth streaming of visual, audio files and Full HD quality videos. Users can also mirror content from mobile devices, and invite up to 16 participants for seamless collaboration.
                             Display Performance Excellence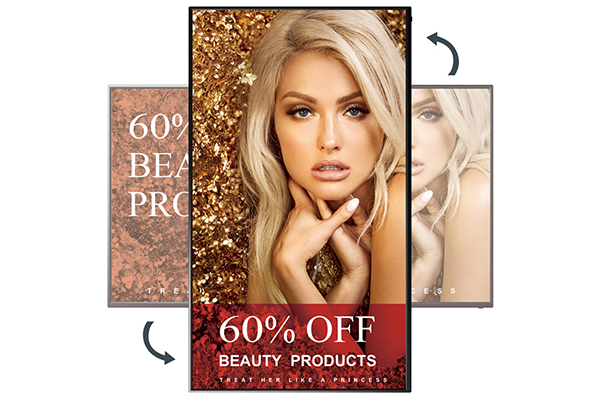 Flexible and Sleek Design for All Retail and Corporate Environments
BenQ Smart Signage series comes with a wide range of sizes, and an iron frame that covers all sides of the signage, ensuring a sleek and robust design that can provide a consistent look for retail and corporate spaces.
Flawless Display in Portrait and Landscape View
Unlike anything else available on the market, BenQ Bar Type displays are built to ensure flawless portrait and landscape view. This choice between vertical and horizontal installation greatly increases flexibility when operators are designing and arranging their stores.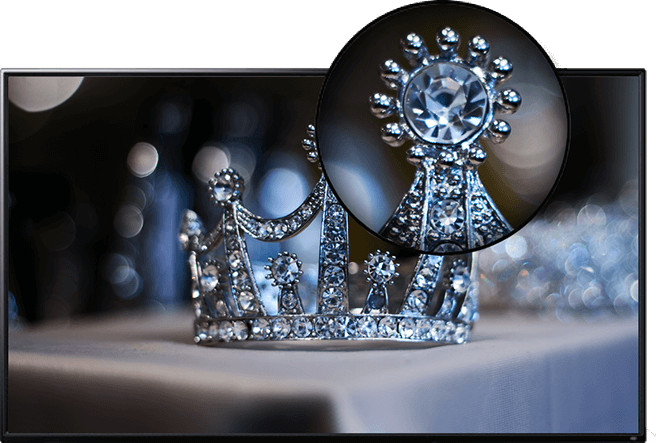 4K2K UHD Unparalleled Clarity
An ultra-high definition resolution of 4K2K (3840 x 2160) offers not only the most exquisite image details for an optimal viewing experience but also four times more information and workspace than a 1080p full HD display, enhancing your efficiency and productivity.
Powerful Performance & Drive
The combination of 32GB system storage and 2GB RAM memory ensures delivery of smooth, seamless display performance at all times, even while the smart signage is multitasking between applications.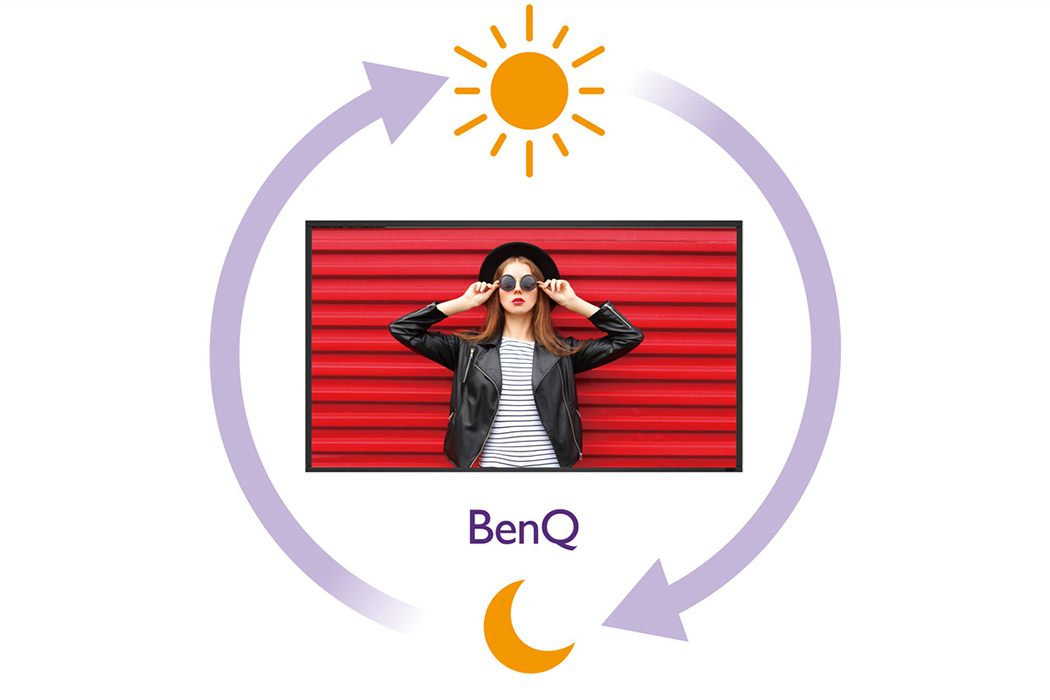 Reliable Operation
An amazing life of 30,000 hours translates to years of reliable display service and industrial-class performance far more economical than consumer models. Built with better cooling techniques reaching longer runtimes for at least 18 hours a day that is safer.
Lightweight Design
Our smart signage displays can be easily mounted or rearranged to suit diverse uses, which saves you plenty of costs and manpower on signage installation, and eventually facilitates different display configurations in stores, offices, and other commercial establishments.
Slim & Stylish Design
A narrow bezel and slim design boasts a stylish outlook befitting any in-store environment, whether it's a trendy café or a sophisticated boutique store.
| | |
| --- | --- |
| Model | ST4301K |
| Product Segment | Smart Signage |
| Sub-Segment | Mainstream |
| Screen Size | 43" |
| Pixel DefectBright Dot/Dark Dot/Total Dot(Refer Panel IIS for details) | 1/5/5 |
| Light Source | Direct LED |
| TV/PID Panel | TV |
| Panel Type | IPS |
| Display Orientation | Landscape / Portrait |
| Usage (hrs/days) | 18 hrs / 7 days |
| Active Area (mm) | 941.2 (H) x 529.4 (V) |
| Resolution (pixel) | UHD 3840 x 2160 |
| Aspect Ratio | 16:9 |
| Brightness (typical) (nits; cd/m2) | 350 |
| Contrast Ratio (typical) | 1100: 1 |
| Dynamic Contrast Ratio | No |
| Response Time (ms) | 6 |
| Pixel Pitch(mm) | 0.49 (H) x 0.49 (V) |
| Frame Rate | 60Hz |
| Viewing Angle | 178 degree (H) / 178 degree (V) |
| Light Life (typical) (hrs) | 30,000 |
| Panel Surface | AG, Haze 3% |
| Color Gamut (x% NTSC) | 65% |
| Panel Bit (8 or 10) | 10 bit |
| SOC | ARM A53 1.5GHz quad core (MSD648WY) |
| GPU | Mali-T720MP2 |
| Scaler IC | No |
| System Memory | 2GB |
| Storage | 32GB |
| OS | Android 6.0 |
| Voltage | 100V~240V, 50-60Hz |
| Maximum (Watt) | 98W |
| Typical (Watt) | 65W |
| Standby (Watt) | ≤0.5W |
| Wake Up | HDMI/VGA/DP |
| Technology | No |
| Resolution (points area function) | No |
| Capacity | No |
| Touch Response Time (Continuous/First) | No |
| Accuracy | No |
| Touch Output | No |
| OS Supported | No |
| OS for Touch Driver Free | No |
| Touch Pen Requirement | No |
| Tempered Glass (Thickness, Mohs scale) | No |
| Anti Bacteria Coating | No |
| AG | No |
| Operation Temp (°C) | 0°C ~ 40°C |
| Storage Temp (°C) | -10°C ~ 60°C |
| Storage Humidity | 10% ~ 90% RH Non-Condensing |
| Operating Humidity | 20% ~ 80% RH Non-Condensing |
| Internal Speaker | 5Wx2 |
| VGA Input/Output | x1 / No |
| DVI Input/Output | x1 / No |
| HDMI Input/Output | x2 (2.0) / No |
| Composite video In/Out | No / No |
| Component In/Out (YPbPr) | No / No |
| S-Video In/Out | No / No |
| Display Port Input/Output | x1 (1.1/1.2) / No |
| Audio Input/Output (L/R, RCA) | No / No |
| PC Audio Input (3.5mm) | x1 |
| External Speaker Out (L/R) | No |
| COAXIAL Output | No |
| Microphone | No |
| Line in/out (3.5mm) | No / x1 |
| RJ45 Port | x1 |
| SPDIF Input/Output | No / No |
| USB (Type A) | x3 (2.0 x 3) |
| USB (Type B) | No |
| USB (Type C) | No |
| RS232 Input/Output | x1 / No |
| IR Loop Through | No |
| OPS slot | No |
| Micro SD Card | x1 |
| Power (AC) Input/Output/Switch | x1 / No / x1 |
| NFC Reader/Writer | No |
| Camera | No |
| Weight (without packing / with packing) (kg) | 10.4 / 12.9 |
| Dimension (WxHxD) )(mm) | 969.9 x 558.3 x 84.8 |
| Housing Material | Metal |
| Housing Color | Black (no logo) |
| Bezel Width (T/B/L/R) (mm) | 13.0 / 13.0 / 13.0 / 13.0 |
| Wall Mounting (VESA) (mm)(Screw type /Max. length) | 200 x 400 (4 holes); 4 – M6 x 28L |
| VESA Hole (for Media Player) | No |
| Pen Tray | No |
| Handle | No |
| OSD / Quick Start Guide / User's Manual | EN/EF/GM/DT/PL/RS/CZ/DN/SW/IT/RM/FN/NG/GK/HG/SP/EP/TC/CN/AB/JP/TH/PS/VT/KR (25L) |
| OSD Tree | BenQ customerized |
| Remote Controller | x1 |
| Carton | BenQ printing |
| PWR Cord (by region) | x 7 (UK, EU(KR), AU, US, TW, JP, BIS) |
| VGA / HDMI / DVI / DP / USB(for touch) Cable | x1(1.5m) / x1(1.5m) / No / No / No |
| RS232 Cable | x1 |
| Quick Start Guide in box | x1 |
| User's Manual (electronic file) | x1 |
| Stand (Easy-to-go mount) | Optional |
| Adaptor | No |
| Warranty card (by region) | x1 (CN SKU) |
| Stylus | No |
| Wall Mount (with shipment) | No |
| Image Setting | Yes |
| Source / Volume Control | Yes |
| VGA Daisy Chain | No |
| DVI Daisy Chain | No |
| DP Daisy Chain | No |
| RS232 Control Daisy Chain | No |
| OSD Rotation (clockwise) | No |
| ID Setting | No |
| Sharpness Enhancement | Yes |
| Proof of Image Retention | No |
| Picture in Picture (PIP) | No |
| Picture by Picture (PBP) | No |
| DVI-HDCP | No |
| HDMI-HDCP | Yes (2.0) |
| DP-HDCP | No |
| HDMI-MHL | No |
| 10 Bit Color Processing | Yes |
| Video Wall OSD Setting | No |
| Ambient Light Sensor | No |
| Total turn-on time | No |
| Internal Temperature Sensor | Yes |
| CEC Control | Yes |
| RTC Function | Yes |
| FW Update | Yes (USB, OTA) |
| Freeze/ Blank | No |
| Front I/O | No |
| Flicker Free | No |
| Low Blue Light | No |
| Device Management Solution (DMS) | Yes |
| Floating tool | No |
| WPS (office viewer APP) | Yes |
| X-Sign | Yes |
| Color Calibration SW | No |
| Annotation APP | No |
| InstaShare | Yes (BenQ Suggest) |
| Account Management System (AMS) | No |
| X-Sign Broadcast | No |
| Warranty | 3 Years |