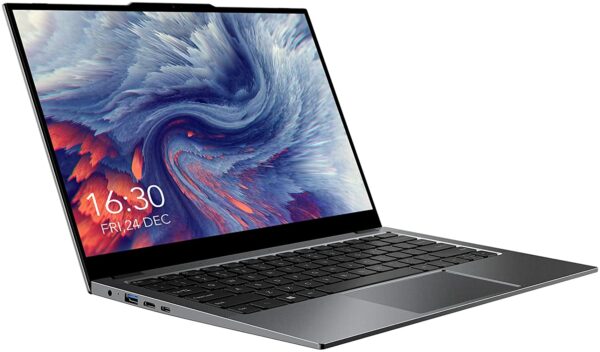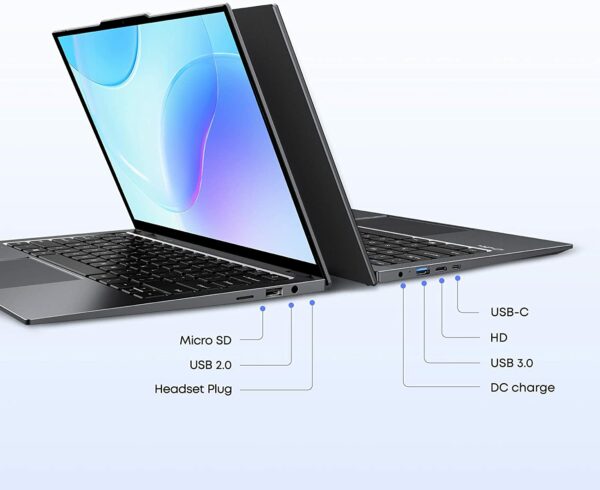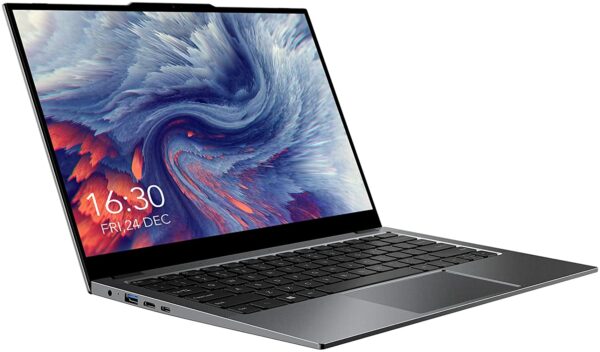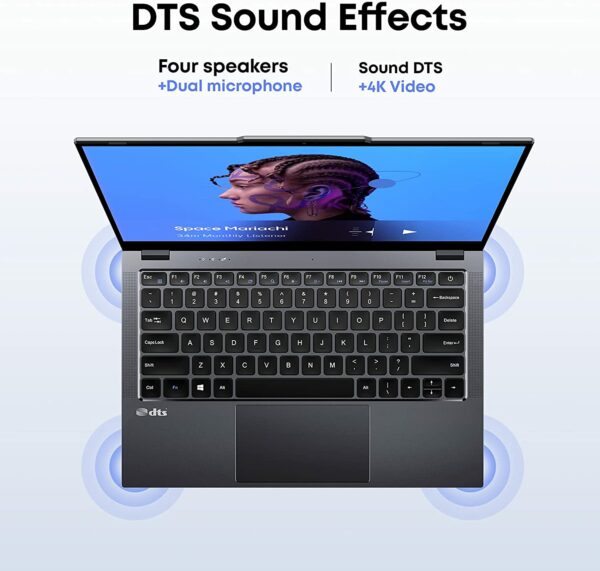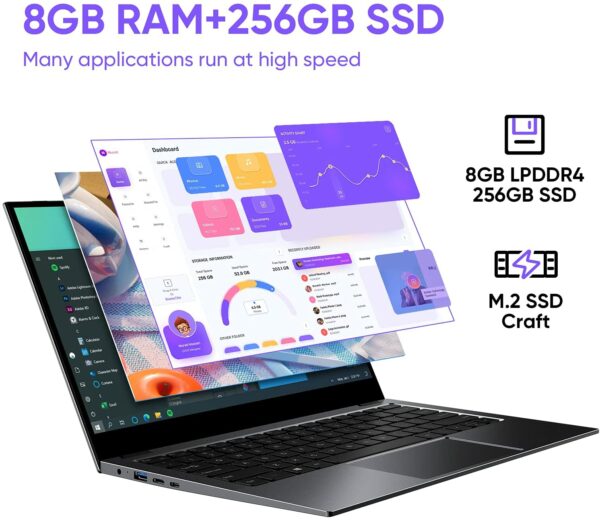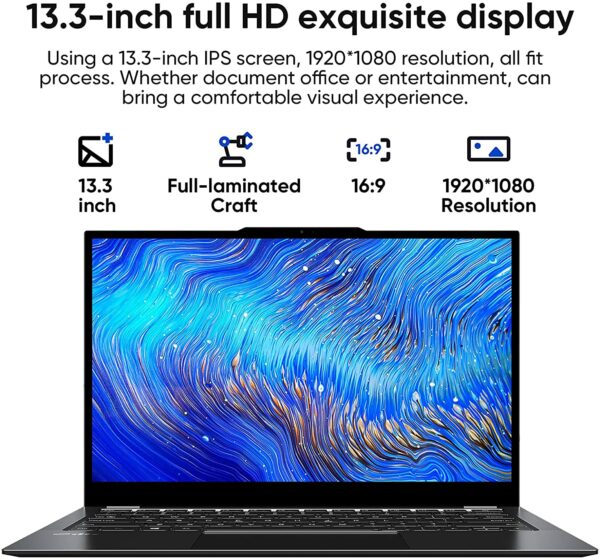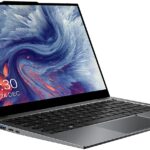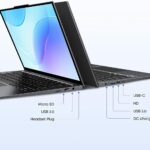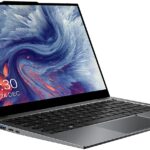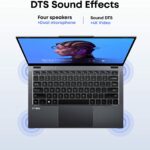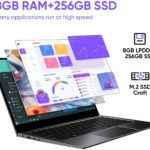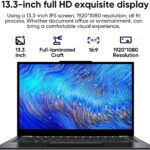 CHUWI LarkBook 13.3 inch Laptop
৳ 33,900.00
Processor: Intel Celeron N4120 Quad Core Processor
Processor Clock Speed : 1.10 upto 2.6 GHz
Display Size : 13.3" IPS Screen
Display Resolution : 2160 x 1080 IPS
RAM : 8GB DDR4
Storage : 256GB SSD
Operating System : Genuine Windows 10
Weight : 2.7 pounds
Warranty : 1 Year Limited Brand Warranty
VISA | MasterCard | AMEX ক্রেডিট কার্ড ব্যবহারকারীরা এখন ০% ইন্টারেস্টে ৩/৬ মাসের কিস্তিতে কিনতে পারবেন। কেনার সময় Debit/Credit Card নির্বাচন করে স্ক্রিনে দেয়া নির্দেশনা অনুসরণ করুন।
Advance payment of ৳500 is needed for orders from outside Dhaka via bKash. Please call 01896005975 for payment and confirmation.
Description
SPECIFICATION
Description
LarkBook
Ultra-Portability Redefined

1KG
11.9mm
13.3inch
Full Laminated IPS
1920*1080
Resolution
USB-C
Full Function
Intel
Gemini Lake
600UHD
Graphics Card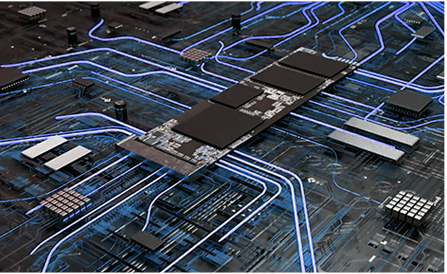 8GB RAM
256GB SSD
2.4G/5G
Up to 867Mbps
1KG, travel light
The whole machine is made of light aluminum and magnesium alloy, with simple design of all metals and exquisite process texture. It weighs only 1KG and is 11.9mm ultra-thin, which is 50% lighter than the market so that to put the productivity in the bag easily.
Fuselage
Wonderfulfeel
Design
13.3-inch full HD exquisite display
Using a 13.3-inch IPS screen, 1920*1080 resolution, all fit process. Whether document office or entertainment, can bring a comfortable visual experience.
Multi-touch screen to improve
business office efficiency
LarkBook's newly upgraded HD touch screen supports ten-point touch technology. Its touch is accurate and sensitive.Better able to cooperate with a variety of touch actions: single point, double click, drag, zoom, write, control and other operations to makeall kinds of convenient controls are in place in one step. 13.3-inch touch screen is like a free creation stage, which releases higher creative efficiency for document processing, web browsing.
Low power consumption ,
high-efficiency office
Equipped with Intel Gemini Lake N4120 low-power processor, 4 cores, 4 threads, and 2.6GHz smart frequency, it can smoothly deal with daily use requirements such as document office, while taking into account power output, perfectly balancing performance and power consumption.
Smooth hard decoding 4K video,
high-quality watching experience
Built-in UHD Graphics 600 core Graphics card, with excellent Graphics performance, smooth hard decoding 4K ultra HD video to bring more pleasant video and audio entertainment experience.
Many applications run at high speed
8GB LPDDR4, the low power consumption memory can run multiple office software at the same time. 256GB SSD make the daily software use faster, no need to wait to improve efficiency, in addition, LarkBook can support M.2 SSD capacity expansion.
Flash wireless contact
Always keep online
The built-in Intel 7265 wireless module supports 2.4g /5G dual-band WiFi, and the highest transmission speed can reach 867Mbps. Even the large file transfer can be quickly uploaded/downloaded, and the remote collaboration is smoother.
DTS sound effects bring an
immersive experience
Built-in four high-quality speakers and dual microphone to support DTS sound. When watching 4K video, not only excellent visual effects, DTS stereo sound but also brings a more incisive sense of the scene.

sound
Long battery life, faster charging
With a 34.8WH lithium battery, the low-power hardware configuration makes the battery last longer, which can meet the needs of a day's use. PD fast charging is also supported, which can quickly restore power without worrying about battery life.
Versatile Type-C,
rich interface support
It has a full-function USB Type-C interface. An all-purpose interface for charging, data and audio and video transmission, which can meet many connection requirements.
Each CHUWI Notebook
Has to Undergo a Rigorous Test
7×24Hours
Electrical Aging Test
20000Times
lnterface Plug Test
30000Times
Shaft Turning Test
23
General Performance Test
14Attribute Tests
Hardware Full Inspection
-20°C~60°C
High Temperature Test
Product information
| | |
| --- | --- |
| Standing screen display size | ‎13.3 Inches |
| Max Screen Resolution | ‎1920 x 1080 Pixels |
| Processor | ‎1 GHz celeron |
| RAM | ‎8 GB LPDDR4 |
| Memory Speed | ‎2.6 GHz |
| Hard Drive | ‎256 GB SSD |
| Graphics Coprocessor | ‎Intel UHD Graphics 600 |
| Chipset Brand | ‎Intel |
| Wireless Type | ‎Bluetooth |
| | |
| --- | --- |
| Brand | ‎CHUWI |
| Item model number | ‎LarkBook |
| Hardware Platform | ‎PC |
| Operating System | ‎Windows 10 Home |
| Item Weight | ‎2.7 pounds |
| Package Dimensions | ‎14.33 x 11.77 x 2.6 inches |
| Processor Brand | ‎Intel |
| Processor Count | ‎4 |
| Computer Memory Type | ‎DDR4 SDRAM |
| Flash Memory Size | ‎256 GB |
| Hard Drive Interface | ‎Serial ATA-300 |
| Power Source | ‎Battery Powered |
| Batteries | ‎1 Lithium Polymer batteries required. (included) |