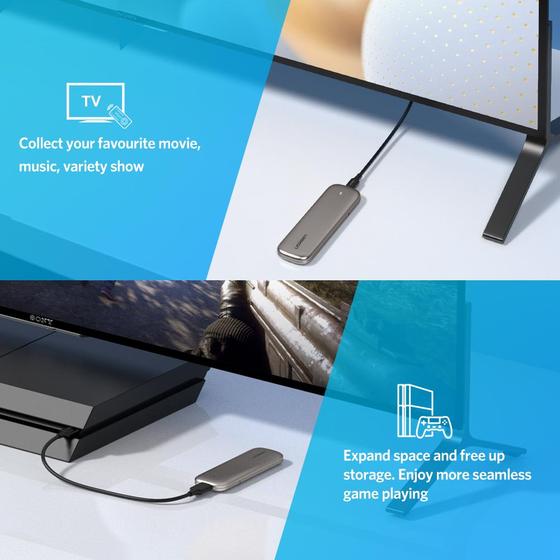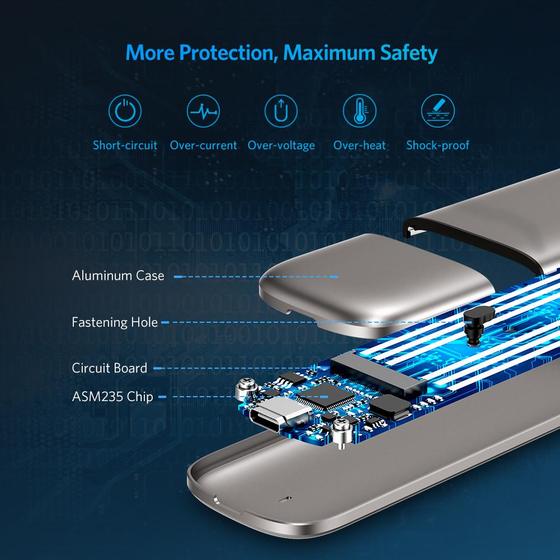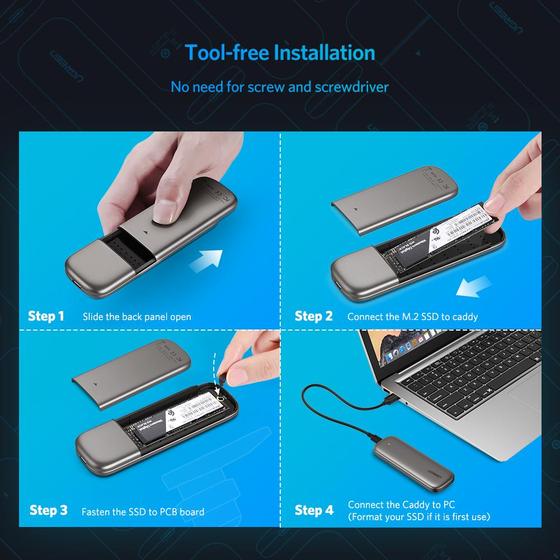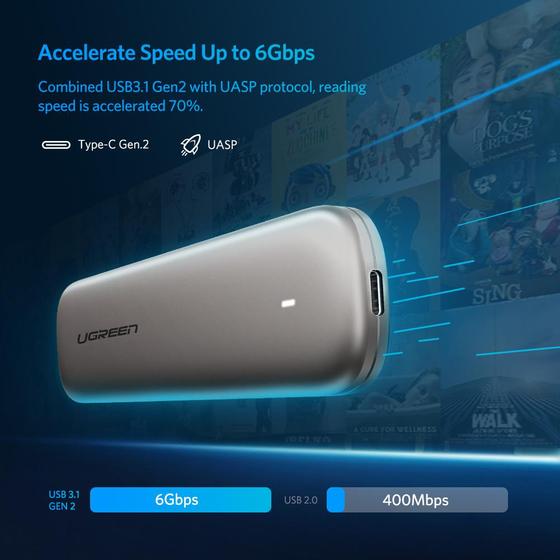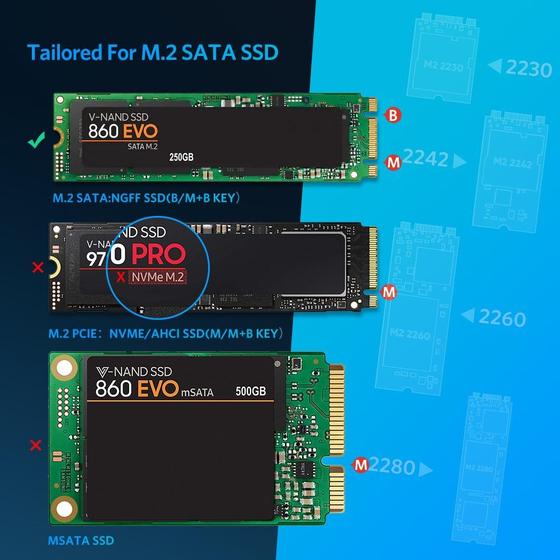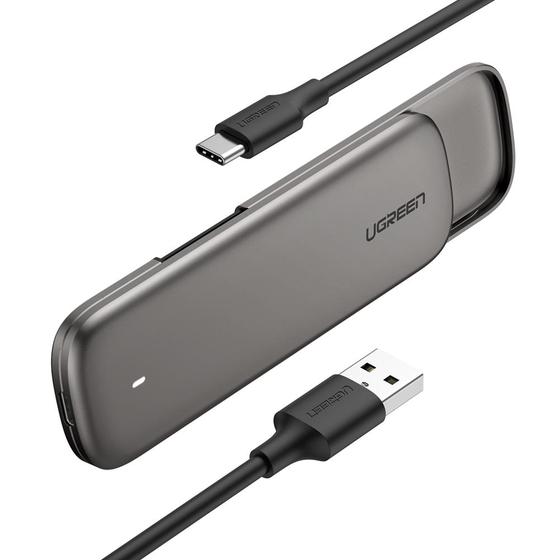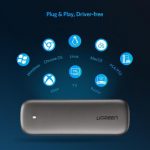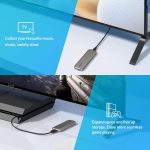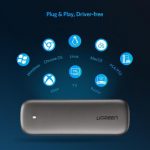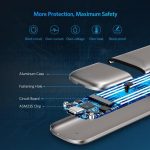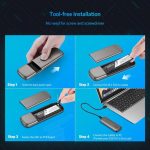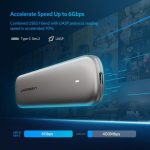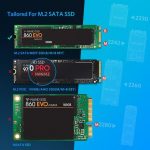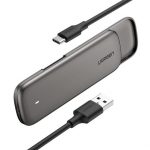 UGREEN 60355 M.2 Portable SSD Enclosure 6GB
Item No: 60355 ৳ 3,500.00
6Gbps Data Transfer
Designed for M.2 SATAS
SufficientHeat Dissipation
Advance payment of ৳500 is needed for orders from outside Dhaka via bKash. Please call 01896005975 for payment and confirmation.
Description
SPECIFICATION
Description
Convenient Bridge Between M.2 SSD and PC

UGREEN External M.2 SSD Enclosure is meant to connect a SATA NGFF based M.2 SSD to a computer for more stable and quicker data exchange. It easily turns a M.2 SSD into a portable external hard drive that helps to reuse your old M.2 SSD.

Super Speed Transmission with UASP

Engineered with USB 3.1 Type C Gen2 interface(10Gbps) and SATA M.2 interface(6Gbps),and delivers max data transmission rate up to 6Gbps.

Simple to Use

Plug & play, driver-free for all devices. USB-bus powered, no need for extra power supply for 2.5″ SATA HDD/SSD.
With UASP (USB Attached SCSI Protocol) it accelerates 70% faster on reading speed and 40% faster on writing speed.

Sleek & Compact Design

Made of premium aluminum ally eatures a lightweight and sleek design with compact size(L122*W40*H12 mm), making it durable and portable to carry around.

Broad Compatibility

Compatible with Samsung: Samsung 860 EVO 2TB/500GB/250GB, Samsung 850 EVO 500GB, Samsung CM871/CM871a/CM871b
Compatible with Western Digital: WD Red SA500 NAS SATA SSD M.2 2280, WD Green 240GB/120GB, WD Blue 2TB/1TB/500GB/250GB
Compatible with Crucial: Crucial MX500 500GB/250GB/1TB, Crucial MX300 1TB,
Compatible with Kingston: Kingston A400 240GB/120GB, Kingston UV500 120GB
Compatible with Intel: INTEL SSD PRO 5450S SERIES 256GB, Intel 545s Series
Compatible with SK hynix: SK hynix SC308 512GB, SK Hynix SC300 Series 128GB/256GB/512GB
Compatible with ADATA: ADATA SU800 M.2 2280 128GB; LiteOn: CV1-8B128 128GB
Compatible with DREVO: DREVO D1 M.2 2280 240GB; YUCUN: YUCUN NGFF M.2 2280 240GB/120GB
Compatible with Transcend 128 GB M+B Key M.2 SSD 2260
Compatible with Lenovo SL700 256G M.2 2242

Warm Reminder

If your M.2 SSD drive is the first time to use, please reformat it before using. Do as following instructions: My Computer–Disk Management– Reformatting the drive.
This SSD enclosure doesn't support PCIe NVMe / AHCI M.2 SSD, like Samsung 970 EVO Plus, WD Black SN750.
Some SSD drives have both M.2 SATA, mSATA and SATA versions available, for example, Samsung 860 EVO. Please check to make sure that your drive is M.2 NGFF SSD before purchase.

Package Contents

1 x M.2 NGFF SSD External Enclosure
1 x User Manual

| SKU | 60355 |
| --- | --- |
| USB Interface | USB C 3.1 Gen 2 |
| Included Cable | USB-A to USB-C |
| Transfer Speed | 6Gbps |
| Max Capacity Supported | 2TB |
| Compatibility | M.2 SATA NGFF |
| EAN/UPC | 6957303863556 |
Specs
SKU 60355
USB Interface USB C 3.1 Gen 2
Included Cable USB-A to USB-C
Transfer Speed 6Gbps
Max Capacity Supported 2TB
Compatibility M.2 SATA NGFF
EAN/UPC 6957303863556